How to Scale Your IT Business with Cybersecurity
Are you providing the cybersecurity solutions SMB buyers seek and need? Watch this recorded webinar to learn more about:
State of Managed Security Services
Comparison of an MSP vs MSSP
How to Overcome Managed Services Price Objections
How to Gain Quick Cybersecurity Wins
How to Capture Long-Term MSSP Wins
Cybersecurity demands are growing - FAST! Customers are at risk and aware of cybersecurity threats surrounding them. Whether or not you go to market as a "Managed Security Service Provider (MSSP)" or a "Managed Services Provider (MSP)," customers expect your role to be responsible for their cybersecurity needs as their trusted technology advisor.
Customers are seeking managed security services, and expecting IT solutions from you that protect their information and provide them peace of mind. Register for our webinar to make sure you're staying relevant, differentiating from your local competitors, and capturing more opportunity by providing the cybersecurity services today's SMB buyers seek.
---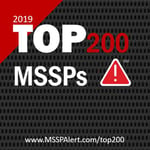 Collabrance a Top 200 Managed Security Service Provider
Collabrance LLC, a U.S. Based Master MSSP, enables partners to scale faster with fewer risks and less overhead. We provide a portfolio of best-in-class technology solutions, proven processes and sales coaching which results in exceptional customer satisfaction and remote resolution rates. In addition to a Service Desk and NOC, Collabrance provides continuing education, tools, personal assistance and access to best practices. In 2018, Collabrance was named a Top 100 MSSP (After Nines, Inc. & MSSP Alert). Most recently, Channel Futures ranked Collabrance on this year's MSP 501 List among the most elite in the IT Channel.